Three years ago Chester-born Stuart Tomlinson was faced with the difficult choice of whether to retire from professional football.
Due to a serious knee injury, the then Burton Albion goalkeeper, who previously played for Crewe Alexandra, Barrow and Port Vale, decided to quit the game.
Little did he know the end of one childhood dream was set to be the start of another, which would take him across the Atlantic to the United States.
His bodybuilder physique had caught the attention of WWE talent scouts and the 31-year-old embarked on a new career as a professional wrestler.
Now rechristened as Hugo Knox and based at WWE's Performance Center in Orlando, the goalkeeper turned grappler is undertaking his first UK tour with WWE's acclaimed development division NXT.
The eight-night tour kicked off over the weekend at Download Festival in Donnington and takes in Belfast, Dublin, Bournemouth and Plymouth.
But Tomlinson told The Chronicle's sister paper the Mirror it was Wednesday's show at Liverpool's Echo Arena he was relishing most.
"Honestly, I can't explain quite how excited I am," said the former Upton-by-Chester High School pupil.
"My family and friends are obviously like 'what are you doing, you're not on TV, we don't get to see you' and everyone always asks me that. But it's going to be great especially Liverpool at the Echo Arena.
"I'm a Liverpool supporter, I was brought up in Chester. I played in Plymouth, so it will be interesting to see if there are any football fans there who might have seen me. Bournemouth too, I've played there.
"It will be interesting to see if any football fans recognise me and want to still boo me! Playing in goal I used to get a lot of stick, but I can only stress that I'm really looking forward to it.
"Life in America is totally different but it's a nice change, every day I wake up to the sunshine, so I can't complain about that.
"The flip-side, not a negative but when I first got out here, people didn't probably understand my humour. Being in a changing room full of lads, I'd say people who play football are usually the naughty boys in school I think.
"It used to be in the changing rooms in football people cracking jokes and very sarcastic, dry humour, out here people probably didn't get what I was saying, and to be honest some people didn't understand my accent all the time, when I didn't think it was that strong.
"I can't complain, I'm loving it, and like I say I can't think of many people who get the opportunity to go from playing football in England to come and be in WWE out here, so I'm embracing every minute of it."
'I grew up watching Rick Rude and Jake 'The Snake' Roberts'
Tomlinson's football career began at Crewe before moving to Barrow, where he won the FA Trophy at Wembley.
He signed for Port Vale in 2010 and switched to Burton in 2012 but a knee ligament injury forced him to retire aged 28 but a door to a new chapter soon opened and he relocated to Florida in December 2013.
Tomlinson explained: "Me and my older brother always used to wrestle around and we had all the old VHS tapes, we didn't have DVDs back in the day. We grew up watching Rick Rude, Jake 'The Snake' Roberts, Macho Man, it's something I always had an interest in.
"If you asked any of the guys I used to play football with, I would always be watching Monday Night Raw or messing around trying to wrestle them in training. I found out about the WWE Performance Center in Florida, I was on the cover of Men's Health, and the talent scout Canyon Ceman, I think he saw a picture of me, and they were looking for talent from the UK, and then lucky enough I got a try-out, and I was here a couple of months later."
Tomlinson trains at the WWE's Performance Centre during the week working on strength and conditioning, wrestling technique and in-ring promos, while weekends are spent wrestling on live events.
WATCH: Hugo Knox checks in from the WWE Performance Center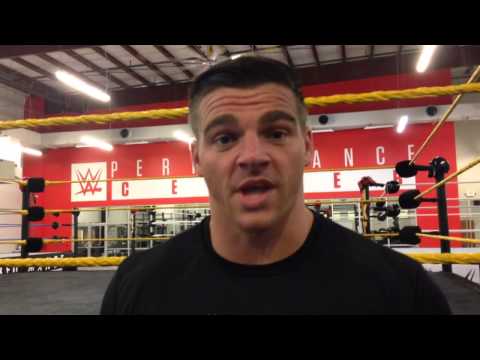 Although he has still to make an appearance on WWE's flagship television brands Raw and Smakdown, Tomlinson is continuing to hone his craft and is determined to make a name for himself in professional wrestling.
He said: "The way I look at it is when I came out here, there are people who have been wrestling for 10 or 15 years, and it's the biggest company in the world.
"There is no way as a footballer without experience you would walk straight into Real Madrid's first team, so I understood it was going to take time.
"You don't walk in and expect to be at the top level. I understood it was going to take time. What maybe has hindered me being more on TV is slight injuries.
"My first year I was lucky enough to go to WrestleMania for NXT Axxess, that's when I actually tore my bicep there, so that put me back like six months. But I've got great respect for the people who wrestle and have been doing it for years so as long as I've been here.
"Honestly we get the chance to work with everybody and that's the great thing, you can get in the ring as a novice and work with somebody who is very experienced and guys who can help you through things.
"I wouldn't pick anybody out in particular, but there is a great wealth of talent here you can learn from. Everyone is different and everyone has their own strength and weaknesses, so just to say you've worked with somebody who is quite experienced, it doesn't take away from what you can learn from somebody who is quite new but equally athletic or has certain characteristics that have helped them to get here.
"Personally you want to perform at the highest level. I was lucky enough to go to WrestleMania two years ago and to see the pinnacle of being here and that's something I'm definitely striving for and want to achieve after seeing it and witnessing it for myself.
"Everything is baby steps here, like I said I came here without a wrestling background, so I'm taking in as much knowledge as I can from each and every coach here, and the aim is obviously to be on TV and try and make a name for myself with NXT."
The NXT tour visits the Echo Arena in Liverpool on Wednesday, June 15. Tickets are available via Live Nation .