It's been a busy day of Chester FC news. Are you ready? Well, let's dive straight in.
No-one likes a sore loser
And that is exactly what Ronnie Moore came across as after his Eastleigh side were beaten 3-0 at home by the Blues on Saturday.
Chester 'didn't have to do anything'? Really Ronnie? THIS sounds like sour grapes to me.
A more accurate reflection of the game comes via our man Dave Powell's player ratings. You don't get marks as high as these without having 'to do anything'.
FA Trophy draw
Our attention soon shifted from the superb victory at Ten Acres to who the Blues will face in the first round of the FA Trophy.
Not heard yet? Then find out HERE.
Major new sponsorship deal
This might get lost amidst the blur of matches. It shouldn't, though.
Chester have announced they have signed a three-year sponsorship deal, worth a 'substantial five-figure sum', with ITS Technology Group Limited, whose head office is in Saighton.
Blues chief executive Mark Maguire takes up the story: "This is an absolutely fantastic deal for the club and epitomises the type of relationship that we are looking to establish as we take the club forward.

"ITS are a hugely successful company with offices across the country and are engaging with us because of our direction both commercially and in the community. To build the platform for success on the pitch we have to test ourselves with partnerships like this; that is with modern, successful and dynamic businesses who will demand value from their involvement with us."
How times change
Towards the sad and sorry end of Chester City, sponsors did not want to touch the club with a bargepole.
And seven years ago today some Blues fans let the wider world just how unhappy they were with the shambolic way their club was being run.
It was the day, of course, a pitch invasion brought about the abandonment of the home game against Eastbourne Borough.
You can relive it HERE.
Happy birthday Eddie
On a happier note, former Blues favourite Eddie Bishop is 55 today.
Which gives us the perfect excuse to use this. It never gets old.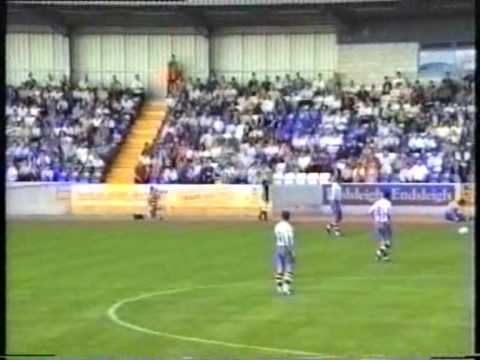 Any other business?
Well, there is actually.
If you buy two £10 tickets for tomorrow's home clash with North Ferriby United (7.45pm kick-off) then £10 will go to the Mercian Regiment Benevolent Charity. You can order your tickets via community@chesterfc.com.
The offer comes on the back of the club announcing a strategic partnership with the Mercian Regiment, who are based at Dale Barracks.
Here's CEO Maguire again: "It is our responsibility as a community football club to demonstrate our support for local troops.
"I would rather engage on a year-round basis rather than just one-off events and so we approached the Mercian Regiment to see how we can help.
"We will launch the partnership with the fixture against North Ferriby where there will be a march around the pitch and a moments remembrance.
"Also, we will be creating a ticket offer where funds will be directed to the Mercian Regiment Benevolent Fund.

"We will also be launching a football for troops scheme through the Community Trust, which is actually an idea given to us by Craig Mahon. This will see the trust deliver coaching to former and serving soldiers and families.

"The regiment are preparing for tours next year and we will do as much as we can to support them and indeed their families while they are away. Indeed we hope to give them a proper send off at the last game of the season. I'm passionate about supporting the armed forces and particularly those based so close to us and it's the very minimum that we should be doing."