A second anti-fracking camp has been set up near Chester where a stand-off took place during Thursday between campaigners and men wearing 'enforcement agent' jackets.
The small camp in Salters Lane, Mickle Trafford, is a spin-off from the nearby Upton Protection Camp in Duttons Lane, recently visited by high profile supporters Vivienne Westwood and Bez of Happy Mondays' fame.
Like the original site, it is also based in a field where energy firm IGas has planning permission to drill a coal bed methane (CBM) exploratory well.
An online video indicates Thursday afternoon's stand-off resulted in verbal exchanges only between campaigners and men in uniform, one of whom described themselves as 'High Court enforcement', and told activists: 'You are trespassing'. But was unclear who had employed the men as they were unwilling to answer questions.
Activists say they called Cheshire Constabulary and the video shows police officers speaking to both parties before the 'enforcement agents' walked off site as the protesters clapped with one shouting 'Great work, guys. Give yourselves a pat on the back'.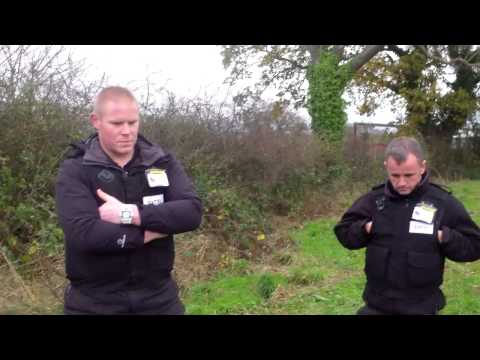 The police officer in charge made clear to campaigners the force was 'not taking sides' and had responded to 'prevent a breach of the peace'.
Anti-fracking Labour councillor Matt Bryan, who represents Upton on Cheshire West and Chester Council, was present during the verbal confrontation.
"The camp was set up a few days ago. It's an active site," said Cllr Bryan, who explained that unlike the Upton camp, there was no eviction notice in place. He said the second camp was being used to store campaigners' caravans in readiness for the eviction notice being enforced, possibly on December 4.
He added: "They told everybody they had to leave but refused to identify themselves, they weren't carrying ID and had no SIA (Security Industry Authority) badges. A text alert was sent out and around 30 residents turned up in support."
Cllr Bryan, who stressed the men were not acting on a court order, understood they left after the intervention of police and praised Cheshire Constabulary for 'a very good job'.
"We don't expect them back soon, certainly not without a court order," he added.
The Chronicle is awaiting comment from both police and IGas.
The IGas website states: "The purpose of this temporary well is to drill vertically down to coal seams at a depth of approximately 1,200m and remove a core of coal to bring back to the surface for analysis (consented depth is 1,700 m). This analysis will provide us with important data, including: the gas content and permeability of the coal seams."
The energy firm envisages it will be no more than three months on site once the exploratory phase begins, with drilling operations expected to take around 28 days.
"During drilling, noise bunds will be in place to provide sound and visual screening. Low intensity down-lighting will also be used at night to minimise glare. At the end of drilling operations, the well will be fully cemented and sealed in line with relevant regulations and industry best practice. All of our equipment will then be removed from site and the site fully restored back to its former state," says the company.
What do you make of the exchange? Do you support the anti-fracking camps? Let us know in the comments below